A few months ago a package arrived in the mail for our family. In it was a small Easter gift from grandma: four delicately crocheted and impressively starched cross bookmarks and a card with an Easter message. This reminder of resurrection and new life is a blessing to me as I hold the work of her hands in mine and remember all the things that her hands have made over the years. Beautiful and practical items that were her way of reaching across the miles - even around the world - at times when her children and grandchildren and great grandchildren have been distant. Mittens and pajamas, tiny Barbie dresses and snowflake ornaments, cozy afghans and warm sweaters. Works of love.
Beautiful and practical seem to me words that aptly describe my grandmother. Beautiful in her sweet smile and sparkling eyes - that sometimes seemed to hold a little mischief. But also the beauty of deep love for family and community. While we are many - the children, inlaws, grandchildren and great grandchildren of Helen Reimer - I have never felt forgotten or unloved. Grandma wanted us all to be included and cherished. And practical. Strong. How could she not be? To not only raised five daughters and care for many grandchildren over her life but also to financially support her family by being a part of the workforce. To physically nurture their bodies by growing a garden and making preserves and pickles, baking and noodle making, sewing and knitting. Practical, beautiful, loving provision and care.
While I've been distant in recent years, my childhood was full of hours spent in grandma's house, in blanket forts in the backyard and eating creamsicles on the front steps, playing with the same games and stacking toys that were still in the cabinet in her Bethany apartment for my own and other children to play with. I will still think of grandma every time I ride the bus with my children and let them ring the bell the way grandma showed me how to do on the way to Safeway. I will remember her in homemade white buns with jam. When I knit mittens with stitches I first learned under her patient guidance. And when I open my bible to the place where it is marked with the cross that she made.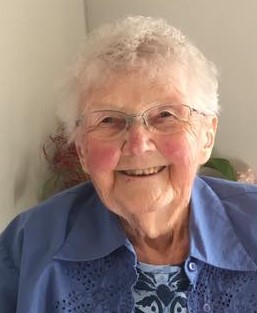 Proverbs 31 asks,
"A woman of valour, who can find?"
"...She is clothed with strength and dignity
and can laugh at days to come.
Her children arise and call her blessed…
"'Many women have done noble things but you surpass them all.'"
May grandma's laughter be met by her smiling Creator,
who is delighted to welcome her with loving arms.
May we children who have been blessed by her surpassing love
be people of valour, beauty and love,
reflecting the love that she has shown to us.
Amen.